So, you want a pool. Perhaps the last resort you stayed in had a nice pool your kids spent too much time in, or you're eager to become everyone's favorite house to spend time at on the weekend. Either way, the only way to make this dream a reality is to find a swimming pool designer. But not just any swimming pool designer.
To create a final product you love, you need to find someone who you can trust to design a swimming pool that meets all your needs. And more than that, they need to understand your lifestyle, aesthetic preferences, and the dream backyard you're looking to create.
Finding a Swimming Pool Designer
Friends and Family
Typically there are two ways that you, the client, are going to have the best luck finding a swimming pool designer you can trust. Most homeowners start this process by reaching out to friends or family that have recently had a pool installed. From here, you can find out who they worked with, and the good, bad, and the ugly of the experience.
If you have an account on Nextdoor, or you are in a community Facebook group, your neighbors are probably happy to share the pros and cons of who they chose. Asking real people who can give you actionable feedback will help greatly.
Ask a Pro
Aside from family, friends and neighbors, another great resource is your trusted general contractor. Everyone knows a general contractor. It doesn't matter what their specialty trade is. If they don't do pools themselves, they know another contractor who does. This is a great, often untold way of finding a reputable swimming pool designers already in your area.
Swimming pool projects are a long process. Usually when a designer is engaged to create a swimming pool, there is work that is going to follow to build out the rest of the outdoor living space. Not all swimming pool designers can work beyond the scope of the pool. Talking with a general contractor who has worked closely with designers will help you learn who was great to work with and who was challenging. Let this serve as an indication as to how they'll work with you.
Online Research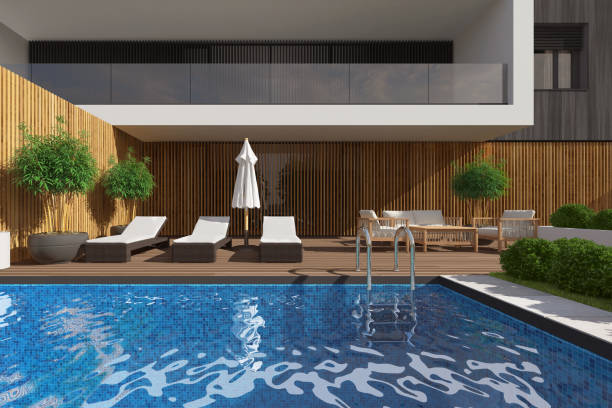 The other, more obvious, way most pool owners find their swimming pool designer is by doing some internet research. Searching online is great because it gives you the opportunity to see reviews from past clients and portfolios of completed pools. It can also provide a gauge on what sets them apart from their competitors.
Some great places to find reviews and see portfolios for pool designers include:
Yelp.com
Yelp is an extremely powerful database that contains reviews and photos of businesses. Not only does it contain hundreds of reviews, but it is generally trustworthy. This is because it is one of the only review platforms where manipulating reviews is incredibly difficult. Yelp has a thorough algorithm that is able to detect fake reviews and not show them on the page or count them towards the total score for each contractor. 
Another way you can gauge the professionalism of a contractor is how they respond to both their negative and positive reviews on Yelp. Condescending and inconsiderate? The poor review is probably accurate and this shows the designer cares very little about their reputation. Thoughtful and understanding? It's likely this kind of business is going to be compassionate to your concerns and do what they can to make the process a positive experience.
Did you know? On Yelp, if you find a review you would like more info on, you can reach out to those past clients through the app. Here, you can ask them more questions about their experience.
Houzz.com
Houzz is like Yelp in that you are able to review home service professionals. However, their review platform is more easily compromised. They do not have an internal system to filter out the fake reviews and are open to being manipulated. 
While Houzz reviews do help you get an idea of how many happy clients a swimming pool designer has, the site is much more popular for displaying the portfolios of designers that use the site. Most pool designers will have reviewable portfolios on Houzz. Because Houzz has a minimum photo size, it's rare to have poor quality photos.
The site/app also has a place where users can publicly ask designers questions about specific projects and users like you can review them.
What To Consider Before Hiring a Swimming Pool Designer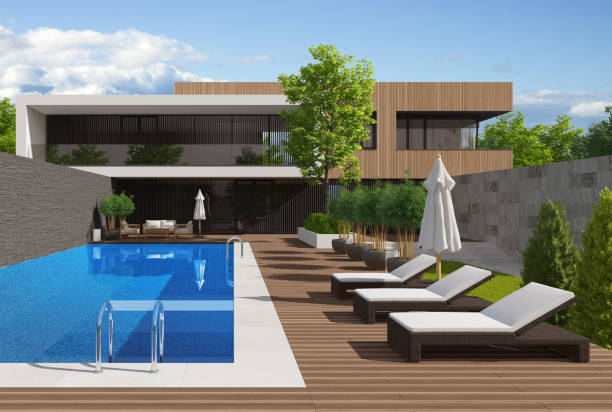 Experience:
There are plenty of young businesses out there that have beautiful instagram photos, stellar reviews and portfolios to match. Still, years of experience trumps every one of these. The pool designer that has been creating pools for 50 years has been in every situation. Not only that, but they've helped their clients get out of much tougher situations than the younger, less seasoned providers.
When considering different designers for your pool build, the group that has seen more action is ready to arrive at every project with actionable solutions. Pools are big and expensive. If they aren't built correctly, they will continue to be expensive for a very long time.
Type of Pool
Before you proceed with a swimming pool designer, ask yourself what kind of pool you would like installed. Are you looking to have a gunite (concrete), fiberglass, or vinyl model? Each of these carries different opportunities, costs and construction timelines. It's rare that one swimming pool designer specializes in all three. Not to mention, the most affordable option isn't always the best. Knowing what you want before you hire someone will make sure you're connecting with the best person for the job 
Cost:
If you're looking for the cheapest swimming pool designer to install the lowest cost swimming pool, two things are bound to be true. The first truth is that you'll probably find them. The second is that you'll wish you didn't.
Pool installation costs are high. When you employ the lowest cost provider from a list of three, it's likely they are just out for some quick cash. The problem here is that cash will be gone long before any serious pool problems present themselves. It's important to understand pricing differs depending on where you live. The same pool built in New York, Northern California, or Miami is going to be about 40% less in Arizona, the Dakotas, and Southern California.
Credentials:
Swimming pools are structural entities that require expertise by a licensed and insured individual. This individual must have licensed engineers to design the pool to meet code. When installing a swimming pool on your property it's critical those that are building it are licensed to do so. They should also have insurance to back them up if an accident happens, because they do happen.
While pools are beautiful and provide entertainment for a good part of the year, they can also take life away in the blink of an eye. If your swimming pool designer isn't on the radar of the governing bodies that control the local industry, there's too many opportunities for a catastrophe to occur.
Schedule:
Yes I know, it's March and you want to be in the water, in your backyard by July. Pool designers are aware of this as well. As a result, they'll do their best to get you in their schedule just as soon as they can and hopefully be transparent about timelines. Still, it's not always a great idea to go with the designer that is available the soonest.
It's a fair assumption that the two busiest designers or design companies are busy for a reason. If a company is booked out and there are people ahead of you in line, there's likely a good reason they are willing to wait. If you're looking for the best end product possible, patience is a virtue.
Find the Right Swimming Pool Designer for Your Project
Hiring a local, reputable swimming pool designer that is going to provide excellent service, be transparent about the process, and help you get the swimming pool of your dreams may be challenging. But it shouldn't be impossible. If you do your research and don't rush the process, it's entirely realistic that you can find the perfect match.