As the weather cools down, many people start thinking about adding warmth and ambiance to their outdoor living spaces. Two popular options are outdoor fireplaces and fire pits. Both provide a beautiful focal point and warmth for chilly evenings, but they have some differences. Today, we take a closer look at outdoor fireplaces vs fire pits, discussing the pros and cons of each, and helping you decide which one is the best fit for your needs.
Outdoor Fireplaces: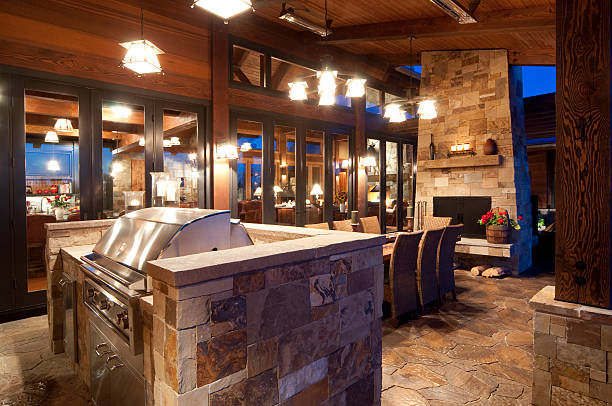 Outdoor fireplaces can add elegance and sophistication to any backyard. They are typically larger structures than fire pits and can be customized to fit any style or design. A traditional outdoor fireplace can be made of stone, brick, or concrete, and can have a chimney that allows smoke to escape. Outdoor fireplaces can be standalone structures, built into a wall or deck, or even attached to a house.
Pros of Outdoor Fireplaces
The largest advantage of an outdoor fireplace is that it can be used year-round, regardless of the weather. Because it is not open on top, it is usable in all elements. The power of fireplaces also means they often give off more intense heat than a fire pit.
This additional warmth and light make an outdoor fireplace a perfect gathering spot for family and friends. Finally, a well designed and well built outdoor fireplace can increase the value of your home, making it a wise investment.
Cons of Outdoor Fireplaces
Outdoor fireplaces can be wonderful and luxurious additions to a finished backyard living space. However, they aren't without their downsides. The largest downside of an outdoor fireplace is the cost.
Outdoor fireplaces are typically more expensive than fire pits. They require more materials and labor to build, and the cost of installation can be high. Additionally, outdoor fireplaces can take up a significant amount of space in your backyard, which may not be ideal for those with smaller yards. They are overall a more-high maintenance avenue for those seeking an outdoor fire feature.
Fire Pits: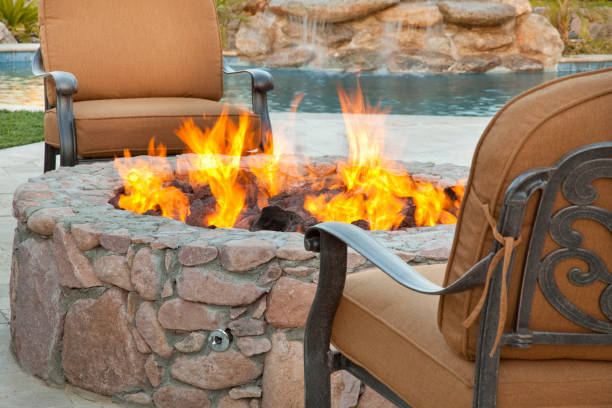 Fire pits are a great alternative to outdoor fireplaces, as they are smaller, portable, and typically more affordable. They are versatile and can be designed to fit any style, from rustic to modern. Fire pits can be made of various materials, including stone, brick, metal, or even ceramic.
Pros of Fire Pits
One advantage of a fire pit is that it can be moved around your backyard or even taken with you on camping trips. Depending on the model you buy, portability can vary. However, it is always an option.
Low on square footage? Fire pits are also perfect for smaller outdoor spaces, and take up far less space than a fireplace without compromising on ambience or function. Smaller fire pits provide an intimate setting, allowing for closer interaction between guests.
The biggest advantage of a firepit is that it requires less design work than a fireplace. Because fire pits do not have to be built into the design itself, you can save yourself some legwork and money. Even custom fire pits build into your patio or deck require less legwork than an outdoor fireplace construction.
Cons of Fire Pits
There are some downsides to firepits. First of all, fire pits can be less practical than outdoor fireplaces. They do not provide as much heat or light to as many people at once. Additionally, they may not be able to be used in cold or windy weather depending on your climate.
This means there may be large portions of your year where you are unable to enjoy gathering around the fire. In addition, they may pose a fire hazard if not used and maintained properly.
Cost Comparison: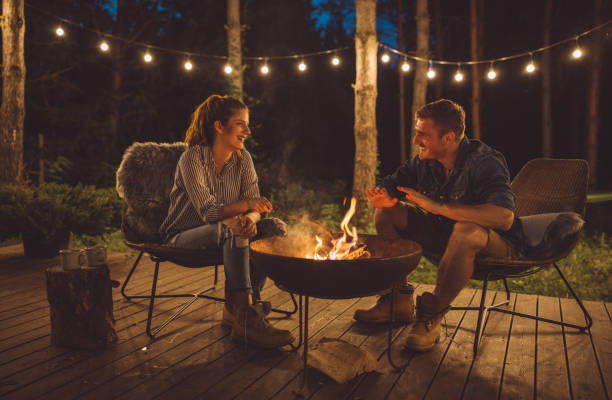 When it comes to cost, fire pits are typically more affordable than outdoor fireplaces. A simple fire pit can be purchased for a few hundred dollars, while a custom-built outdoor fireplace can cost several thousand dollars. The cost of installation for an outdoor fireplace is also higher, as it requires more materials and labor.
However, it's important to note that the cost of a fire pit can also vary depending on the materials used and the size of the pit. A larger, more elaborate fire pit or one that is custom built for your space can cost just as much as a smaller outdoor fireplace.
Fire Pit or Outdoor Fireplace–What's better for you?
In the end, the decision to choose an outdoor fireplace or fire pit comes down to personal preference, budget, and available space. If you have a larger backyard and want to make a statement with a permanent, elegant structure, an outdoor fireplace may be the better choice. If you have a smaller space and want something more portable and affordable, a fire pit may be the better option.
Regardless of which option you choose, it's important to prioritize safety when using any type of outdoor fire feature. Make sure to follow local regulations and guidelines for building and using fire features, and always keep a fire extinguisher nearby.
In conclusion, both outdoor fireplaces and fire pits have their advantages and disadvantages. It's up to you to decide which one is the best fit for your needs and budget. No matter which option you choose, adding a fire feature to your outdoor living space can provide warmth, ambiance, and an inviting atmosphere for family and friends to gather around and relax.